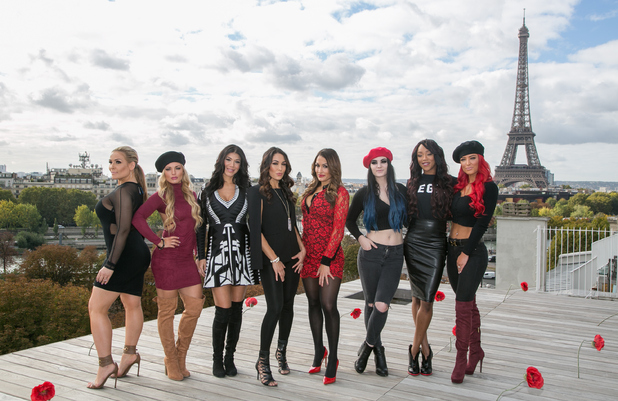 Total Divas star Rosa Mendes has announced she is engaged. The WWE diva revealed her beau Bobby Schebenski popped the question while she and her co-stars enjoyed a trip to Paris. Taking to Instagram, Rosa shared a photo of her in-credible engagement ring (the boy did good, right?) and said: "I SAID YES!!!!!! I can't say the way he did it, but it was a dream come true!!! @bobbyschubenski you're my soulmate.#Paris."

Rosa and the rest of the divas are currently in Paris filming for series five of their E! reality show, and luckily for us, Reveal were invited to join the girls over lunch in the French capital.

Not only can we confirm that the divas are the sassiest bunch we have ever met, they are also super friendly too. We had spied Rosa's gorgeous new accessory on her wedding finger when we arrived, and as we sat down to eat, we learned Bobby had in fact proposed just hours earlier!

The girls were quick to toast the couple on their happy news and when we caught up with Rosa, she told us she had no idea her boyfriend of seven months was going to ask her to marry him.

Speaking about the special moment, she said: [It happened] today. About two hours ago. The ring still has to be sized… I can't tell you how it happened because I want it to be a surprise."

Rosa, who is currently five months pregnant with her and Bobby's first child, continued: "I actually didn't [know]… it's funny because we've only been together for seven months and we got pregnant two months after being together, but we knew we were going to be together.

"When we met it was love at first sight, I knew I was going to be with him forever, it was just a surprise that I got pregnant. As I'm getting to know him better, he's going through all my pregnancy stages, my hormones, my eating habits… and I'm already a little wild!"

With a baby on the way and a wedding to plan, it's safe to say Rosa is more than excited. She gushed: "You can ask the girls, I've been looking for love for… I don't even know how long!"

Her good friend and fellow diva Nattie Neidhart then added: "I've known Rosa for what? Eight years? It's funny because just when you least expect it you find the person you've been waiting for your whole life. Eva [Marie] said, 'you really have to go through ups and downs and everything in between to really understand the person you're meant to be with'.

"It's nice because I've seen Rosa through all different phases, it's just nice to see her truly happy. You can see it in her smile and you can just feel it, it's pretty cool."

If that wasn't cute enough, Rosa then told us she is expecting a baby girl, her very own "little diva". When we suggested baby Schebenski is going to be one very spolit little girl, Rosa and the divas all replied: "Oh yes!"

The mum-to-be then revealed: "She already has a Gucci outfit for when she's born, we've already picked it out!"

Rosa and Bobby are expected to welcome their baby daughter early next year. Sharing their baby joy, she told fans: "@bobbyschubenski and I want you to welcome Jordan Elizabeth Schubenski February 2016!!! Words can't express how excited we are and how hard it was to not tell all of our friends and loved ones. Forgive us. Lol!! I'm sure you are as ecstatic as we are!!"

As Rosa is more than half way into her pregnancy, the 35-year-old will have to miss out on competing when the Total Divas hit the UK next month for their upcoming tour.

"I'm so sad I'm not going to be there, of course I'm happy that I'm pregnant and engaged… but I don't want to miss out," she told us.